High Interest Rates
Most store cards charge a higher than average APRs. According to Federal Reserve data, the average annual percentage rate (APR) across all credit card accounts in the U.S. was 22.12% during the fourth quarter of 2022. With many store cards, you'll face an APR of at least 20% if you don't pay the balance in full each month. Alternatively, most general use credit cards offer an 0% introductory APR on both purchases and balance transfers for a year or more.
Minimal Rewards
You won't get a lot of bang for your buck when it comes to store credit cards, as their rewards can't compare to the rewards you get with other general use credit cards. Spending a lot of money at a store doesn't guarantee the rewards will be worth the investment, either. Plus, you are limited to one spending category to earn them – the money you spend at that particular retailer. Retail cards also tend to entice you to sign up with an additional discount on your first purchase. Other rewards and cash back cards offer much more lucrative welcome offers for new card members.
Low Credit Limits
If you are used to having a credit limit of several thousand dollars on your regular credit card, then you'll be disappointed to find that many store credit cards only offer limits of a few hundred dollars.
Minimal Redemption Options
Unlike other credit cards, store credit cards don't give you many choices when it comes to redeeming your rewards. You are typically limited to redeeming them at the retailer itself.
Featured
---
Card Details from Wells Fargo:
Earn a $200 cash rewards bonus after spending $1,000 in purchases in the first 3 months
Earn unlimited 2% cash rewards on purchases
0% intro APR for 15 months from account opening on purchases and qualifying balance transfers, then a 19.74%, 24.74%, or 29.74% variable APR; balance transfers made within 120 days qualify for the intro rate and fee of 3% then a BT fee of up to 5%, min: $5
$0 annual fee
No categories to track or remember and cash rewards don't expire as long as your account remains open
Enjoy a premium collection of benefits at a selection of the world's most intriguing and prestigious hotel properties with Visa Signature Concierge
Get up to $600 of cell phone protection against damage or theft when you pay your monthly cell phone bill with your eligible Wells Fargo card (subject to a $25 deductible).
Select "Apply Now" to learn more about the product features, terms and conditions
---
If you have decided it is time to ditch your store credit card and you are ready for an upgrade, here's a list of cards that offer generous intro APRs, incredible ongoing perks, flexible redemption options and much more.
3% Back On Groceries, Dining & More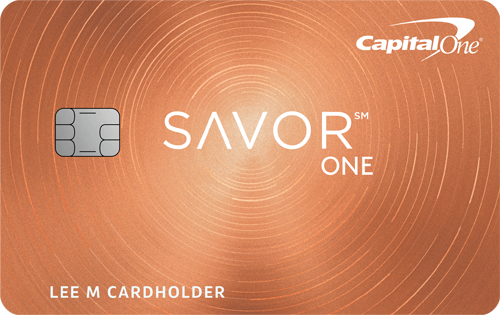 Apply Now
On Capital One's secure site
Recommended Credit Score
670 – 850*
View All Card Details
If you spend regularly on dining, entertainment, groceries and online streaming services, then the Capital One SavorOne Cash Rewards Credit Card would be a great addition to your wallet as cardholders earn unlimited 3% cash back in those categories. You will also earn 1% back on all of your other purchases. There is no annual fee and new cardmembers can also benefit from a 0% intro on purchases and balance transfers for 15 months, then 19.74% – 29.74% (Variable). There is a 3% balance transfer fee but that fee is likely worth it if you are paying interest each month on another card. You can also kick off your cash back earnings with a $200 welcome bonus that can be earned by spending $500 on purchases within the first 3 months. That is a much lower spending requirement than the other cards we have featured and it equates to 40% cash back on your first $500 in purchases.
Double Your Cash Back Your First Year
Apply Now
On Discover's secure site
Recommended Credit Score
670 – 850*
View All Card Details
The Discover it® Cash Back is a well-rounded option as it offers fantastic cash back rewards, a generous intro APR period, a unique bonus opportunity and does not charge an annual fee. You will earn 5% back on everyday purchases at different places each quarter like Amazon.com, grocery stores, restaurants and gas stations (up to $1,500 in combined purchases each quarter you activate, then you earn 1%) and 1% back on all of your other purchases. The unlimited cash back match bonus is what sets this card apart. All of the cash back you've earned in your first year is matched. There are no minimums or hoops to jump through to earn this bonus. It is easy and can be very lucrative if you use your card regularly and take advantage of the 5% categories. Round out all of this with a 0% Intro APR on purchases and on balance transfers for 15 months, then 16.49% – 27.49% Variable APR.
Unlimited 3X Rewards on Restaurants, Travel, Gas & More
Apply Now
On Wells Fargo's secure site
Recommended Credit Score
670 – 850*
View All Card Details
This $0 annual fee credit card is a top-rated rewards card that offers unlimited 3X points on restaurants, travel, gas stations, transit, popular streaming services and phone plans. There are no caps to worry about and no rewards calendars to keep track of. Plus you will also earn 1X on all of your other purchases. New card members can also earn an impressive 20,000-point welcome bonus after spending $1,000 in the first three months. This bonus has a $200 cash redemption value! In addition to the cash redemption option, you can also redeem your rewards for travel, gift cards, and more. And while there is no intro APR offer for balance transfers it does offer a 0% intro APR for 12 months from account opening on purchases, followed by a 19.74%, 24.74%, or 29.74% variable APR.
Choose Your 3% Category
Apply Now
On Bank of America®'s secure site
Recommended Credit Score
670 – 850*
View All Card Details
With the Bank of America® Customized Cash Rewards credit card you get to decide which category you'll earn 3% back in each month. You can select from gas, online shopping, dining, travel, drug stores, or home improvement/furnishings while also earning 2% back at grocery stores and wholesale clubs. The bonus cash back earned in these combined categories (your choice, grocery and wholesale clubs) is capped at $2,500 in purchases each quarter. You'll earn 1% after that cap is hit and on all of your other purchases. To sweeten the deal, you'll also earn a $200 online cash back rewards bonus after you make at least $1,000 in purchases on your card within the first 90 days of your account opening. That's an additional 20% back on your first $1,000 spent! That is a huge list of perks for a card with no annual fee.
Editorial Note: Any opinions, analyses, reviews or recommendations expressed are those of the author's alone, and have not been reviewed, approved or otherwise endorsed by any card issuer.
*CardCritics references a FICO® 8 score, which is one of many different types of credit scores. A financial institution may use a different score when evaluating your application.